Wedded Bliss Wednesday: Gifts!
Another one of these fun blogs! I was a little behind on last week's Wedded Bliss Wednesday so I'm late again for this week's - but no worries, better late than never! You can visit
Table for More
or
Life After...
to link up and take part in these - they really are fun! Enjoy...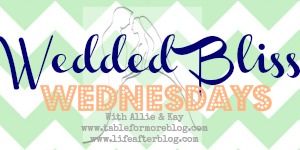 What is the best gift to give your husband?
Something sports related. He loves the Memphis Tigers, the Dallas Cowboys, the Chicago Bulls, the Memphis Grizzlies, and team USA to name a few! His enthusiasm for sports has really rubbed off on me over the years and I've enjoyed going to games with him over the years as well as watching them at home or various bars and restaurants. (Of course, I do less of that these days compared to a few years ago!) I am just waiting for the day when I can give him the gift of going to a Cowboys game
IN
Dallas! And of course I can't wait to go with him. He also is such a gadget guy and loves cars and playing sports... he's got so many hobbies he is so easy to buy for.
What is a meaningful gift that you can give that does not cost money?
Hugs and kisses, of course! ;) Just kidding. Definitely gifts of service and time are excellent, free gifts you can give your spouse! For example - those sweet coupon books full of things like "good for one free back rub" or "good for one chore you would rather me do!" and things like that. Also, things like poems, slideshows, artwork, a song written for you, or whatever creative outlet you express yourself through. Those gifts are the absolute best and most priceless.
What is the best gift you have given to him?
Hmmmm... not sure. I'm not as good at gift giving! But one of the most memorable and one that I miraculously kept a secret until I gave it to him was a trip to Chicago to watch the Bulls play the Houston Rockets! Yao Ming played for the Rockets at the time and so did former Memphis basketball player Joey Dorsey (at the time that I bought the tickets he played for the Rockets but then he got let go before the game! So sad.)
I put a lot of thought into it and looked for a cool game he'd enjoy and I knew he'd like to see two former Memphis Tigers play each other (Dorsey and D-Rose). Also gave him a Rose shirt jersey that he really liked so we could match for the game! It was an AWESOME game they won at the very end and I can't wait to go back sometime!
Two of our friends from Memphis came up to visit & made the trip to Chicago as well!
What is the best gift he has given to you?
Oh goodness. He really is the best gift giver! He gives gifts solely to make the person he's buying for happy and he really puts a lot of thought into it. I don't even think I could pick the best gift he's gotten me. Wait, that's a lie... there was one birthday that really trumped all the others. One year he got us both tickets for Florida to visit my Gramma Myers (our first plane ride together!) & my engagement ring/poem/proposal all for my birthday in 2009! It was amazing. And I didn't see it coming because he told my cousin, Breanne, that he wasn't proposing and that he hoped I wasn't getting my hopes up. He said he knew he wanted to spend the rest of his life with me but that he couldn't afford the ring he wanted to get me at the moment. He asked her not to tell me which of COURSE meant she told me - thank goodness he's smarter than both of us! ;) So when he proposed the last night in Florida - I was shocked!!!!
My Gramma and I at a beautiful place for lunch
Two foxy Myers ladies!
Just minutes after he popped the question!
My beautiful engagement ring, photographed by the amazing Nicole Young @ NMY Photography




Some of my other favorite gifts from him over the years -- my first iPod (pink nano with my name engraved on it!), a Tony Romo jersey, a Larry Fitzgerald jersey, a beautiful heart necklace (one of the first gifts I vividly remember!), a beautiful blue diamond promise ring, and I know this may sound silly - but he has gotten me really nice AE socks for the past two Christmases and I love love love them!
What are you giving this holiday?


Well, it will have to be a last minute decision or I will ruin it by telling him! LOL! I can NOT keep a secret from him. I got him two stocking stuffers today and ended up telling him already.... RRRGH! Good news is, he likes them!
This has got me even MORE excited that it is NOVEMBER... aka, the month that we can start decorating in my household! I mean, if it were up to my husband, I'd wait until after Thanksgiving to start that... but there is no way I will wait that long. I will wait until after my birthday, though, which is November 10th! So he's got that long to get over it!!! Happy November, friends! (PS-- This blog is not posted by Tony... not sure why it says that!)