Words from my husband!
Another Wedded Bliss Wednesday - but this time it's from my
husband's
perspective! Although I'm sure I won't be surprised at any of these answers since Tony and I were together for so many years before we got married, but even still, I really love to hear things from his perspective. (Especially because I talk so much more than he does...) As usual, you can join in on the wedded bliss each week through
here
or
here
. So, here we go... questions answered by the better half, Tony!
-------------------------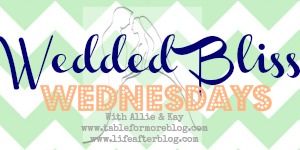 What was the first thing you noticed about your wife?
Well we were pretty young when we first met each other, at a church soccer field. But I do remember her being very athletic and fast. I also thought she had very nice legs.
When you first started dating, what kept you calling/asking her out?
I really liked AIM'ing with her lol. We had mutual friends and mutual hobbies and all I could ever think about was when would be the next time we would hang out.
What is your wife's best quality?
Probably her sense of humor. She can really make me laugh and because we have been together for so long, we just have a connection that takes time to create. Lots of times we already know what the other one is thinking or we know what to say to the other one to get that laugh! And NOBODY can make Presley laugh like she can, and Presley has the sweetest laugh ever, so I really enjoy that also.
What is your favorite thing to do with your wife (ahem, keep it clean!)?
Well because of the time of the year, I would say watching football together and also being in a Fantasy Football league together. Its really fun hearing her views on all of it and seeing how passionate she can really get about it all.
What are you most excited about for the future with your wife?
I am really excited for us as a family to grow. I loved being able to dress Presley up for her first Halloween and picking out a costume and I look forward to her first Xmas and us being able to do all the traditions that we will hopefully be able to do for years to come! She is the best mom to Presley and we are extremely lucky that she is able to stay home and take care of Presley day in and day out, as much as she might second guess that when Presley is refusing to eat her peaches or take a nap lol.
How do you make your wife feel loved?
I honestly try to do as much as I can around the house, so that she doesn't have to worry about it during the day when she is watching Pres. Occasionally I will buy her flowers to try to show my appreciation for everything she does, with Presley, cooking dinner, cleaning, paying the bills, always looking to save money somehow and her hardest job of putting up with me. I probably need to work on those back and foot massages a little more tho! ;-)
-------------------------
I have the best husband a girl could ask for. Thought I would add some pictures of some good times we've shared over the years together!
Funniest story - ever - about this picture from our honeymoon....
New parents... look at how EXHAUSTED we look!
I know I'm far from the perfect wife - and we will always have ups and downs - but I promise to spend the rest of our life together trying my best to make you happy, Tony. I love you!