It's Date Night!
Or... well, talking about dates, anyway! I decided to take part in Wedded Bliss Wednesday through
Kay
&
Allie
's blogs. And today it's a couple questions about what it's like to date my husband!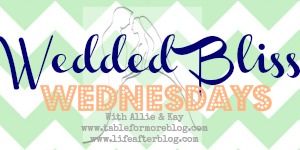 How often do you and your husband have a date night?
Sheesh... since having Presley, they have really been sparse. To be honest, our last date without the beeb was for our year anniversary in May. The older she gets, the more she has become a mama's girl - it makes leaving her hard. It's mostly my fault - I'd say - that we haven't been on a date for so long. I just know that no one loves Presley quite as much as Tony and I do, and even knowing that kind of love, I feel frustrated and short-fused with her some days... so it makes me nervous to leave her with anybody else who isn't her family. And my family is so busy! Plus, I think we just get too comfortable in our routine to break out of it. I think after a while, though, we will get back into the swing of things. Since we have the nights to ourselves after she goes to bed, it's not so bad!
What did you do on your first date?
We went to Back Yard Burger for one of our first real dates. It's was one of our favorite places to go for a burger & fries while we lived in Memphis. Neither of us remember the details of the night very well - but I do remember that it was one of the first times when it was just Tony and I, alone. Because he is 2.5 years older than me and we were so young when we met and started dating that my mom was worried about him corrupting me and stealing my virtue (right, Mom?) so we hung out with my sister and his friends a lot of the time to satisfy my mom. Little did she know that Tony was the best person to be around... I didn't get myself into any real trouble until I was away from him and with other friends.
What is your favorite kind of date night?
Since I haven't been on a date in nearly five months, ANY date sounds wonderful. We used to love going to see movies when we were younger - we'd go nearly every weekend - so I always think it's fun going to the movie theater with him since it brings back so many memories. The drawback about going to see a movie is that it's like stepping into a time warp... you spend a few hours out but don't get to really spend any time talking or really being together. So ideally, I'd say going out to dinner would be a favorite of mine.
I also like going on crazy little adventures with Tony. Flavor Flav opened a Fried Chicken place about an hour from where we live. (We watched Flavor Flav when he had all those shows on VH-1 back in the day...) We heard that Flav would be there on it's opening night and possibly through the first week it was open - so we hopped in the car a few days after it opened and thought maybe we'd get lucky and see him there. It was January and it was dark and ABSOLUTELY freezing - and we stood in a line wrapped around outside the restaurant for at least an hour before we made it inside. Well, Flav was in the building and he was meeting people after they ordered because the kitchen was pretty backed up. After waiting another half hour or so, we met him and snapped a picture with him... it was completely random and hilarious. Before we had Miss P, we were always just jumping in the car and going to do something spontaneous ~ we always have so much fun together. I definitely miss that a little and can't wait to go on adventures with Presley, too!
The restaurant only lasted a few more weeks after this because it was being poorly run. Flav came back to visit to see how it was going, and he found tons of expired food being served and he shut down the place.
This restaurant literally shared a parking lot with KFC... he built it right next door to them, purposely.
How do you do date night on a budget?
Plastic Jungle is one of my favorite websites when it comes to date nights on a budget - you can get discounted gift cards to so many places. We like Living Social and Groupon as well - but unfortunately we live in a small area - so there aren't many opportunities there for us. For those of you who live in the Quad Cities, we use the Deal of the Day through QC Online all the time and it has worked out great for us! There are deals for all kinds of things here in the area from restaurants to swimming pools and all kinds of stuff. And if you don't live in the Quad Cities, I'd look around for something similar in your area... the "Groupon" type of thing is really catching on in communities!

My husband and I always love a good deal. Our local Chick-Fil-A has a Spicy Night every Tuesday from 5-8pm ~ if you buy a Spicy Chicken Sandwich then you get the fries & drink free! So on Tuesday's our dinner our is only $8.45!
What is the best kind of date your husband could surprise you with?
I'd say any kind of surprise, really! I think it'd be so wonderful to go all out for a surprise date - get all dressed up, have my husband pick me up at the door with a bouquet of my favorite flowers, go out for dinner and drinks and maybe even dancing(!), and end the night in a romantic, relaxing, fancy-schmany hotel suite! Sounds pretty ideal, huh?!
Maybe I can talk Tony into filling this out, too, so we can hear his side of things!