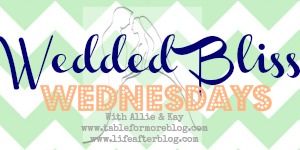 Another Wedded Bliss Wednesday - but this time it's from my
husband's
perspective!  Although I'm sure I won't be surprised at any of these answers since Tony and I were together for so many years before we got married, but even still, I really love to hear things from his perspective.  (Especially because I talk so much more than he does...) As usual, you can join in on the wedded bliss each week through
here
or
here
.  So, here we go... questions answered by the better half, Tony!
 -------------------------
What was the first thing you noticed about your wife? 
   Well we were pretty young when we first met each other, at a church soccer field. But I do remember her being very athletic and fast. I also thought she had very nice legs.

When you first started dating, what kept you calling/asking her out? 
   I really liked AIM'ing with her lol. We had mutual friends and mutual hobbies and all I could ever think about was when would be the next time we would hang out…